Mary Crowley Gives Back
Mary Crowley Cancer Research continues the generous legacy of founder Mary C. Crowley by giving back to the community. Mary used to say "JOY multiplies as you share it with others," and her spirit of giving is the inspiration behind our service activities.
Every year Mary Crowley employees volunteer at events hosted by our Community Partners. In addition, we sponsor an annual employee service project.
 
Upcoming Projects:
Have a suggestion for a community project for Mary Crowley team members? Let us know! Please email information@marycrowley.org with your suggestion.
Past Projects:
Stockings for Inpatient Oncology Patients –  Dec, 2018
Mary Crowley staff members gathererd together on December 19 to stuff stockings for inpatient oncology patients at Medical City. Forty stockings were filled with items such as activity/puzzle books, lotion, chapstick, hand sanitizer, snack/drink items and small holiday items to help spread some holiday cheer.
Halloween Carnival at Medical City Children's Hospital –  Oct, 2018
Representatives from the Mary Crowley data team and other departments volunteered at the Medical City Dallas Children's Halloween Carnival in October. They hosted a Toy Story themed booth where kids could try to knock down cans, as well as a photo booth featuring props so kids could dress up like their favorite Toy Story characters.
Bonton Farm –  April, 2018
Team members at Mary Crowley are very service driven! For a perk, the Data Management team decided to volunteer at Bonton Farms on Thursday, April 19th. Eager employees met up at 9:30am where they were tasked to plant pumpkins and pull weeds in the newest garden. The farm does not use pesticides and so they rely on volunteers to help maintain the gardens. Afterward, the team took a tour of the property and posed with the farm critters for photos. 🐖 🐓 🐐 Fresh produce and eggs from the farm are provided at low cost to the residents in the Bonton community in South Dallas which is considered a "food desert".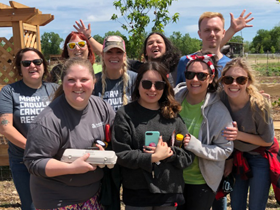 Undy Run sponsored by Colon Cancer Alliance –  November, 2017
At Mary Crowley, we are passionate about the mission we are on and love the community we are part of. This was the 9th year of participation by team Mary Crowley Crawlers at the annual Colorectal Cancer Alliance Dallas UNDY Run/Walk! Mary Crowley is a Community Health Partner with the Colorectal Cancer Alliance and is honored to help further their mission of providing hope and support to colorectal cancer patients and their families.
Halloween Carnival at Medical City Children's Hospital –  Oct, 2017
Mary Crowley staff members participated in a fall carnival at Medical City Children's Hospital. The team dressed to the theme of Peter Pan and children played Captain Hook Ring Toss to win prizes before having their photo taken in the jaws of Tick-Tock the Crocodile.
Tools for School – August 2017
For several weeks, staff members collected backpacks, notebooks, pencils and other back-to-school essentials to be donated to local homeless children. On Saturday, August 5, we delivered 32 stuffed backpacks to Hope Supply Co.'s warehouse in North Dallas. Since 1985, Hope Supply Co. has distributed school supplies, hygiene products, snacks and other items to DFW-area nonprofits that serve homeless children. HSC staff said the supplies arrived just in time to fill an order. Thank you all for your generosity!
.
North Texas Food Bank – June 2017
Mary Crowley staff and friends gathered at North Texas Food Bank (NTFB) for a meaningful service project. Mary Crowley volunteers sorted frozen meats and canned goods to be distributed through NTFB's local food pantry partners.
.
Wheel to Survive by Be the Difference Foundation – February 2017
The "Mary Crowley Wheelers for Hope" ride in the indoor cycling event in honor of our patients fighting ovarian cancer.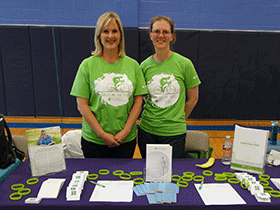 Undy Run sponsored by Colon Cancer Alliance – November 2016
The "Mary Crowley Crawlers" walk in honor of our patients fighting colon cancer. 
Operation Christmas Child, Christmas Box Project - June 2016
For one month in advance of the event, Mary Crowley employees collected toys, gifts, toiletries, shoe boxes and gift wrap for children living in poverty in Third World countries. On the day of the service project, we set up a "boutique" of items arranged according to gender and age level. Then we divided into teams to decorate a shoe box and "go shopping" for our assigned child. We stuffed 39 boxes!